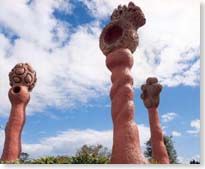 Another weekend passes filled only by the unfamiliar wailing of Australian Rugby League fans, trying to come to terms with the fact that their team was beaten by the Kiwi's in Sydney on Saturday night. It must be hard to be a sports fan in Australia at the moment, lost the Ashes, haven't won a Rugby Union game in 5 tests, now losing the first League test & next week hopefully, we will beat them at Netball. Then their humiliation will be complete.
I had a pretty relaxing weekend, visited a few friends, got the household jobs done & ate outside on my deck as much as I could. There is something quite excellent about having breakfast outside on a Sunday morning with the papers & coffee.
At work I then encountered my pet hate; one of my clients insists that I send a report to them every day. showing what freight they have in transit & details such as weight & cost.
Inevitably once this has been sent to them they call up & ask either myself or my colleagues for the EXACT information I have just sent them!!! Go Figure.
I don't mind if they get the report or make a call, but why do they feel the need for both?
Clown shoes
Listening to
The Lightning Seeds
The Finn Brothers
Ocean Colour Scene
Danny Elfman